I knew she would die.
She knew she would die.
Everyone knew she would die.
It was a just a question of when, where and how.
Can't you just leave her somewhere and come? Many people asked me.
Many people told me why don't you put an end to her misery?
I asked myself many times, Can I ? Should I?
Then an inner voice told me, till the day she can stand up and move and walk till the garden, I cannot put her to sleep (PTS).
The eyes were too trusting.
I used to sit next to her rubbing my palm on her skin and pray to our common God.
I would slowly whisper, ' Go , go away, don't suffer".
And yet the day I left her for a short trip, all I could say was ," Don't die on me".
It was around 4pm and we had to reach the venue for an event by 430-445 . As I was draping my saree I suddenly got choked and reached out for some water. My phone rang at the same time. My daughter she whimpered and said she's gone ma, she died.
With tears pouring down my cheeks I said it is ok we all knew she was going. This is for the best. You are brave now give her a send off.
I always used to ask my husband, we have enough money to relocate her with us and he would say, yes we are keeping that in a separate fund.
We did not have to do anything as she relocated herself to a-place beyond boundaries. I do believe she is my guardian angel looking out for me from beyond and waiting for me to join her.
[ That is what I say in a condolence message to pet parents ,"Let the baby Run free and now you have a Guardian angel watching over you".]
I called her Lipti ( which means one who hugs) Her actual name was Liberty in the documents and I heard it as Lipti and the name stayed.
She was mamma's baby and next in line of her affections was her human sister.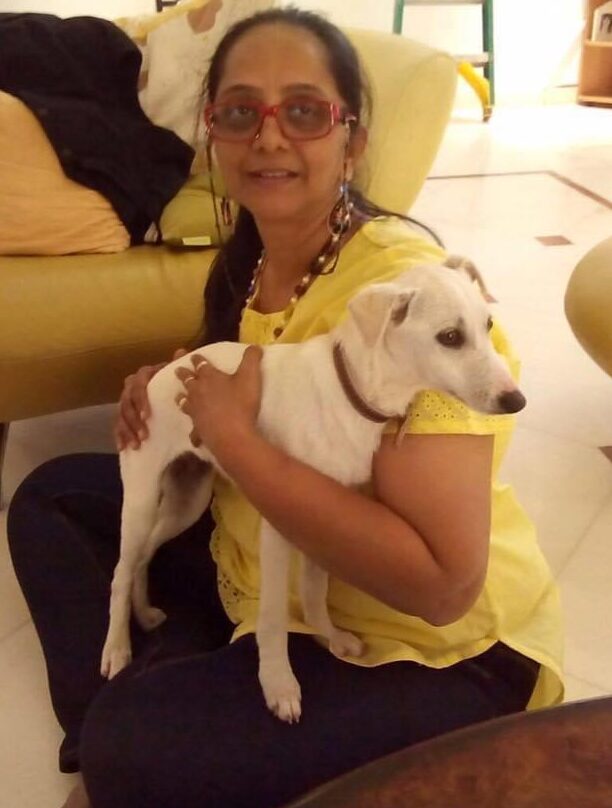 Somewhere along the way I heard that she was in her crate,(the crate training story is for another day), and as my helper removed her collar she breathed her last. He was shocked but it was as if he had released her from her worldly bonds.
Two days later I returned. The family came to pick us up from the airport. I did not cry when I saw my daughter and nieces. They waited with bated breath for the outburst. We reached home with heavy signs of mourning in the air.
At some point the dam broke and I started crying. I cried not only because she died but also because I felt I failed her, I let her down. Oh I can hear everyone say it is God's will and what has to be will be.
She should have been with us for her 3rd birthday. She was a just a pup.
They said she had Addison's disease.
When I look back at the pics I realise she was unwell and a little sad but when close to her I could not remain objective.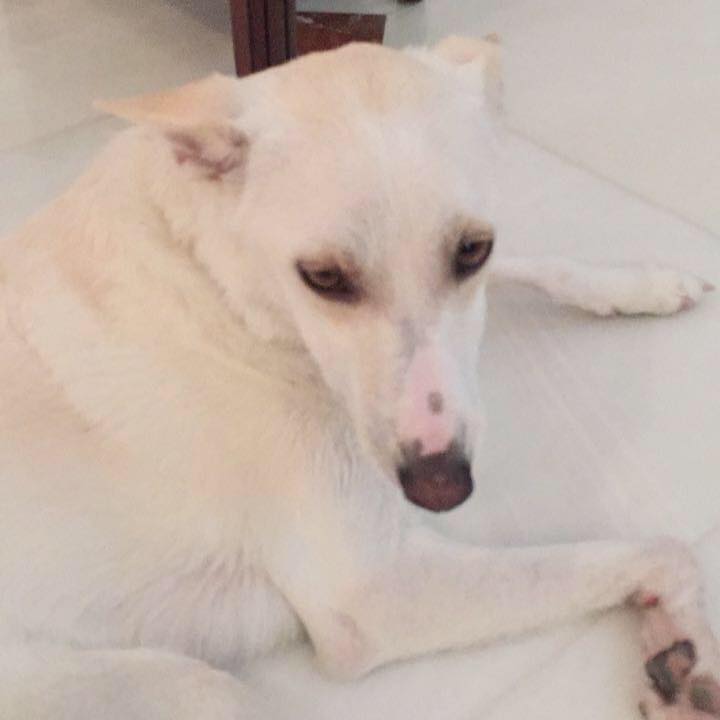 She was a rescue and we were asked many questions before we were granted permission to adopt and the whole family had to visit the rescue center for the selection and adoption process.
One would wonder why such a rigorous process for an animal. I think it should be more rigorous and the whole family should be involved as otherwise returns, abandonment increases if one member in the family is not happy.
I also firmly believe that one should foster for 10 days to 2 weeks so that when the "pawmoon" (equivalent of honeymoon) period is over you are still hanging on to the furbaby with love in your eyes and time on your hands.
It is also true that the furbaby may not be able to adjust to you, needs more time or less time or whatever reason and is not happy. Accept it and give it back during the trial. Less painful now then later for everyone all around. Yes I have personal experience where a foster baby did not like men and I had three of them in the house including my husband and helpers. We had to send her back and I felt like a heel but better early than later so the furbaby is less confused.
You can take to the vet and have a check up done after bringing the furbaby home. In case you want to understand the furbaby and its metabolism better. If it is a dog look at their paw . A small pup which will grow up to be bigger can be identified by the paw size.
The next debate will be on to neuter or not( for other debates read post in the link here ).
A simple logic if it is a female dog to neuter is you cannot go along cleaning its period stains.
Secondly if your pet gets pregnant your are doomed. Yes pups are cute ,but they come with expenses of food and vet and no one to adopt them as going back to vet and relocation charges which are an arm and a leg each. Not to forget the boarding charges if you plan to go on vacation which you will maybe short or longer breaks. On a daily basis you also need toys and walks for them.
With male pups there is a time between when they are 6 months to 8 months when the pup is ready for neuter. Readiness might be checked with the vet by taking personally there or sending a pic of our star.
While talking about neutering we were told by different vets in both the cases that the pets were ok and can handle it. However in my experience once the anesthesia wears off they do have pain, walking, peeing and may even throw up post- op. With Lipti I sat up the whole night as she would not let anyone else close to her however for Simba it was my daughter who along with PPT duties had to do this as well. She is naturally an empathetic person and this gave her deeper insight into pain when the being cannot speak.
So the cost of adoption covered the cost of neutering.
Having said that no other costs are covered and Vets can be very expensive.
There are many horror stories which one comes across on a regular basis of wrong diagnosis, carelessness, over -doing the tests, too many vaccines and many unspeakable where the pet just died with absolutely no explanations and worse is losing vision or other faculties.
Not all is lost .There are many vets who are kind, do not overmedicate and do not overcharge.
Not surprising they get overloaded.
There is no insurance coverage for any pet. For the purpose of this article I researched a few other countries and found insurance albeit with some terms and conditions, however something is better than nothing.
Would we be more encouraged to adopt, and see through the life span of the pets if we had insurance.
The insurance would also be a safety net that the price of the diagnoses and treatment would be fair. Would we feel encouraged to take the pet to the vets earlier instead of later to ensure that correct, timely treatment is rendered.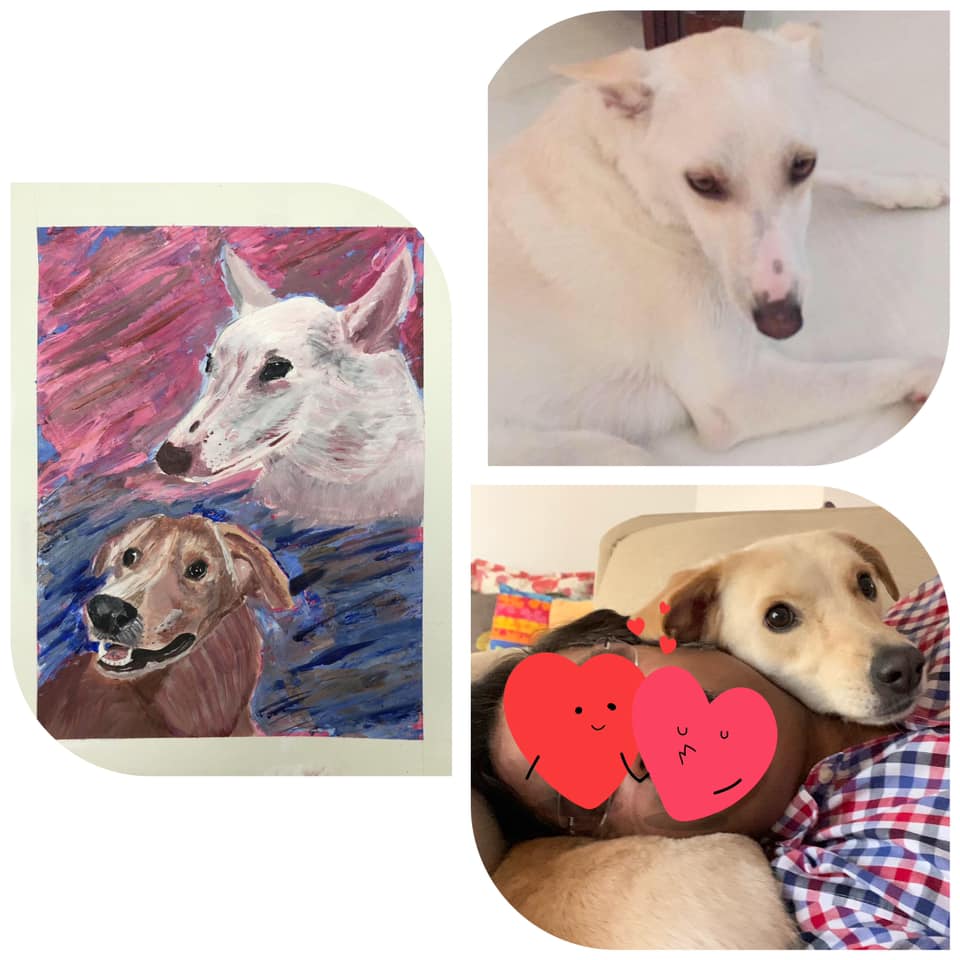 Pets are for life yours or theirs, hence we included our Furbaby -Simba in our will and appointed a guardian to ensure the pet is taken care of. Most people don't write their will and very often in Dog Based groups we come across messages that the owner suddenly died, no one here or anywhere to take care of the Fur -Baby. The pet is also undergoing as much trauma as humans, sad, confused, maybe choose aggression as an outlet. They cry when you have been out of town for while or away for long periods in a day itself, how do you think they will react to death. Humans can fight it out in courts but what of these furbabies?
I have to share this about Lipti.
Lipti had always seen my in- laws come visit us as a couple. My father- in law passed away in July 2017. When my Mother in law came to visit us in October 2017, Lipti came running outside to greet her. We came inside the house . Lipti went back out ,came in repeated this and kept jumping here and there and one look at her face one could clearly understand she was asking where my father in law was. My Mother in law addressed her and told her ,'He has gone away to God'. Lipti understood and calmed down. For those who have pets will tell you stories of how the pets sensed the illness or death or took the pain away and died instead. These are not stories these are experiences.
Thinking of beyond your life is important. Ofcourse you also want to make sure the caretaker is not a character from the famous Disney movie "The Aristocats". Choose well and choose with faith and keep the intended caretaker informed of this.
Enjoy with your pet and think of the cost of ownership in terms of money , emotions for yourself and your pet. Comment and share this with people who need to read this and who are also in a similar situation. Let them know you are not alone ever, not with a pet around. Those who are struggling with the decision to PTS – Put To Sleep ,or not your baby will tell you when it is time to go and think about the baby too not just about yourself.
Sharing a video here of our baby Simba.